Last year we designed, developed, and distributed our first set of small-scale drip irrigation kits to groups across Kenya. Nearly a year later, we continue to receive positive feedback about the benefits that the kits provide. The farmers, women, students, and other groups who participated in our pilot program report that with the drip irrigation systems, they have been able to grow more vegetables, harvest year round, and earn money from their crops.
Feedback from the field
"We are fine and the drip irrigation kit did function well and the group in Kinunga had a wonderful harvest and are very thankful to Rooted In Hope team."
"We as Baraka family we do appreciate your donation and support. The drips are perfect only that we keep on rotating them due to the space they occupies."
"My drip is also doing well and have really helped during this dry season as the seeds germinated and are healthy enough"
"The water is running very well and they are able to conserve the water very well as you will see in the pictures the crops are very green despite the hotness of the sun."
"The kits are working on well and are of great help to the groups, especially the Kinunga women's group. They have confirmed even selling some of the crops such as spinach, carrots, and beetroots as they did very well and are now in the second harvest."
"This is a great initiative. It is a initiative to materialize. I am looking forward to be part of if. I will marshal Kenyan to be part of Rooted in  Hope vision on empowering Kenyans."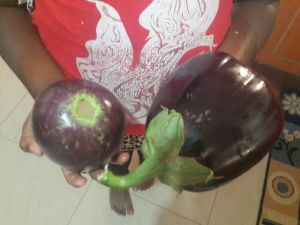 Photos: Harvesting at Muramati Secondary School (left),  Baraka Children's Orphanage (center), large eggplant grown with drip-kit in Ruiru (right) 
Real results
Have you noticed an improvement in water usage, crop yields, and/or labor time?

A lot as very little water is used for a big area, crop yield okay as you can see from Kinunga women holding yields from the seeds that were to take 75 days already ripe in their hands.

Which types of crops are growing the fastest/performing the best?

Spinach and beat roots, followed by tomatoes and carrot.

Do you have any requests/suggestions to improve the drip-kits?

Only to lengthen the drip pipes to cover a big area as well as support more plants.
After assessing the results our pilot program, Rooted In Hope is ready to do more. In response to several requests, we have extended the drip lines to cover a larger planting area. We are also working to establish a system for local production and distribution in Kenya, with a particular emphasis on engaging women's groups. With our continued commitment to this initiative, we hope to bring new growth and new solutions to many more people.
Want to be part of the solution? Sponsor a garden for a school in Kenya.
Interested in purchasing a drip-irrigation kit for your home garden? Contact Us

.